Cotton Rope Toy for Chewing and Teething Puppies, 6 inch
SUPER SAFE NON-TOXIC Our Rope Dog Chew Toys are handmade by twining high quality cotton & polyester threads; this rope is further knotted together for added strength, protection & durability.
SUPER LONG DURABLE Our Rope Dog Chew Toys have thick and tight knots which makes it long lasting, even for aggressive chewers. These nearly indestructible dog toys will entertain your dog for hours unlike squeaky or plush toys that get destroyed in minutes.
DENTAL CLEANING Braided cotton & polyester thread helps to clean up dirt hidden in dogs teeth due to the friction when your dog is chewing the toy. It also promotes the healthy growth of teeth and gums.
GREAT FUN AND ENTERTAINMENT Every dog loves to play with his human parent and have fun together and our rope chew dog toys facilitate the same . These toys can be used for both indoor or outdoor playing or training. Satisfying dogs instinctual needs and strengthening the bond between dog and owner
HELPS REDUCE ANXIETY IN DOGS AND STOPS THEM FROM CHEWING ON FURNITURE & PERSONAL BELONGINGS Satisfies dogs natural urge to chew as dogs can chew for hours, our Rope Dog Chew Toys will keep them busy when you are not around and will also provides comfort when they feel nervous. Suitable for medium & large dog breeds.
View full details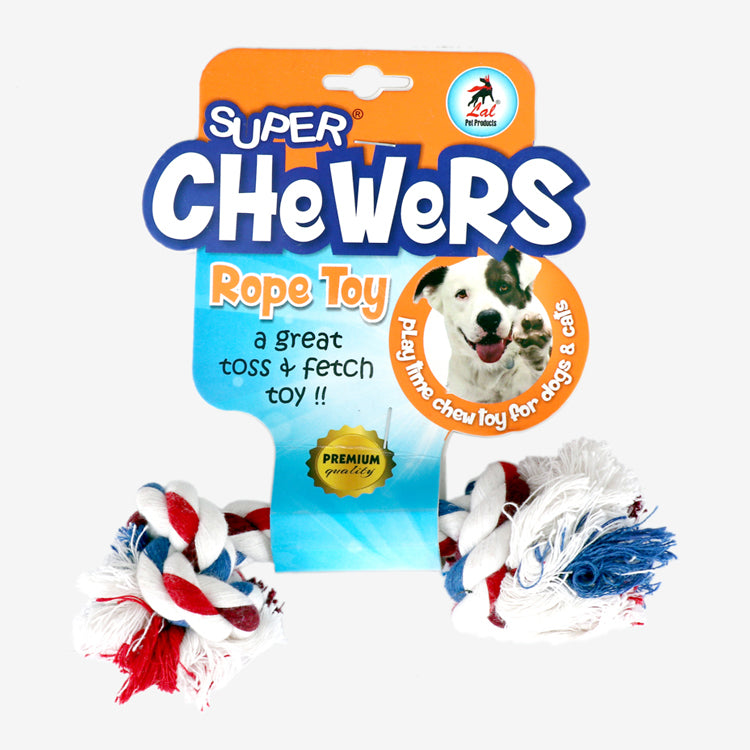 Cotton Rope Toy for Chewing and Teething Puppies, 6 inch